NACRJ Event: A Talking Circle to Celebrate Pride 2023
Community and restorative justice continues to grow and expand across the U.S. and world. With that growth comes increased opportunities for trainings, conferences, and events to deepen one's relationship with these practices. In our commitment to continual learning, practice, and facilitating connections, we offer this calendar as a go to place to share and find community and restorative justice events.
To submit an event, please click the "+" button to the right. Please allow 2-3 days for your submission to appear on the calendar. You will be notified by email when your event is posted.
NACRJ Event: A Talking Circle to Celebrate Pride 2023
Saturday, June 3, 2023 (10:00 AM - 12:30 PM) (CDT)
Description
For Pride 2023, we celebrate and reflect on how far we've come, recognizing the incredible strides toward LGBTQ+ equity in recent decades. Through fierce advocacy and unwavering determination, we've witnessed legal victories, societal shifts, and greater representation. However, amidst the celebrations, we remain mindful of the long road ahead. We acknowledge the battles yet to be fought, the barriers yet to be shattered, and the hearts yet to be fully embraced. So, let us join together in Circle to listen to one another, empower one another, and conceptualize a future where equity knows no bounds.
Since 2020, hundreds of people across the country have come together in NACRJ's Online Community Sharing Circles to share current events, harms, needs, and opportunities. The past few years have taught us the necessity of creating space for authentic connection, expression, relationship, and community building, especially during challenging times. Together, with the assistance of Circle Keepers from across the country, we host these circles to create a sacred space of deep listening to one another.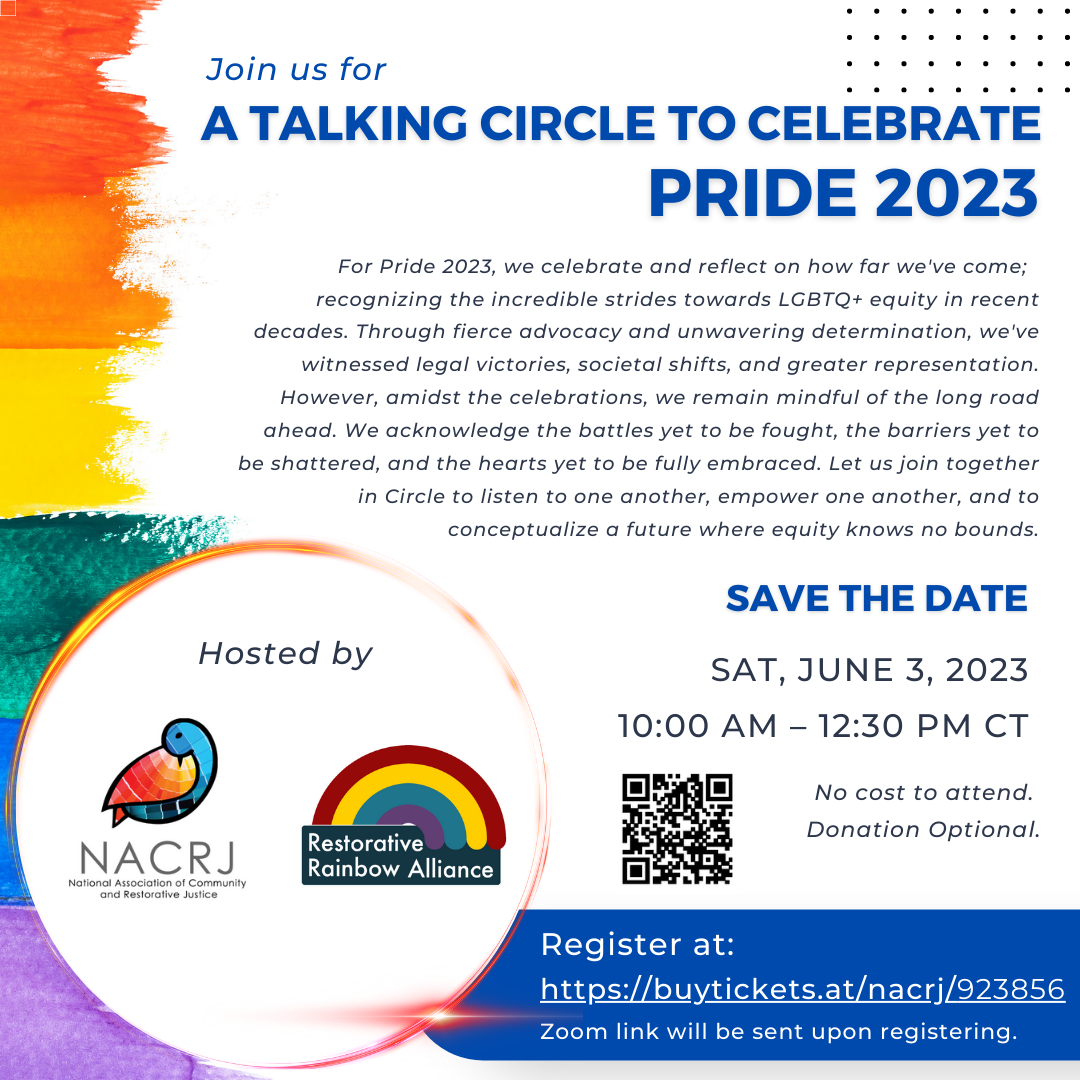 Pricing
Free Online Event.
Optional: Donations upon registration
Zoom
Online Event. A Zoom link will be emailed upon registering.
Saturday, June 3, 2023 (10:00 AM - 12:30 PM) (CDT)
Please make note of your time zone: 8:00a-10:30a PT / 9:00a-11:30a MT / 10:00a-12:30p CT / 11:00a-1:30p ET
Categories
Online
Free of Charge
Event